LATEST NEWS FOR NOVEMBER 2002
Our invitation is extended to discover various Asian American leaders listed below, information on our past victories and the many great things that are presently happening in our communities.
Discover the latest events in the following categories
OBITUARIES
CIVIL RIGHTS
POLITICS
FILM NEWS
ARTISTS & LEADERS
THEATER NEWS
EVENT NEWS
MUSIC NEWS
TV News
Community News
YOUR MUSICAL INPUT IS NEEDED as we seek identify the best songs from our music artists.
Click HERE to have your opinion heard on the following music groups:
Quell (Industrial Noise)
Bad Candie (Rock)
Francis Kim (Folk Rock)
Second Wind (R&B)
Gorillaz (Hip-Hop)
String Cheese Incident (Jam Band)
Vanessa Mae (Classical Pop)
A-Mei (Asian Pop)
Junoon (Rock)
Regine Velasquez (Asian Pop)
P.A.C.I.F.I.C.S. (Hip-Hop)
Ghost Orgy (Pop)
John-Flor (Jazz)
Maya Marin (Folk)
Tim Tamashiro (Jazz)
Click HERE on your views if people would come to a Hollywood night club showcasing prominent Asian Pacific American music artists.
FEATURED ARTISTS & LEADERS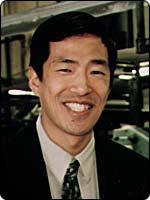 Their rags-to-riches story started with a penniless immigrant John Ta Chuan Fang arriving from Taiwan in the early 1950s to a small job at a printing shop that has become a media dynasty with potent political connections that has awed many in San Francisco's Chinese American communities.
They are power players in a city that's traditionally known as Old Gold Mountain in Asia. It's where the Chinese arrived by the tens of thousands searching for opportunities since the Gold Rush and it's also the departure point for those who look toward Asia as the future, a Pacific Rim city.
The Shanghai-born Fang's involvement in journalism began at age 11, when he journeyed alone to inland China and sold newspapers for a living. He later studied journalism at Taipei's Chen Chi University and worked as a reporter at the New Life newspaper, a government-controlled paper in Taiwan.
He came to San Francisco in 1952 to study "everything" at UC-Berkeley. His dream was making it big in the white-dominated newspaper business.
Instead of getting a master's degree in journalism, however, he began working at the Chinese Daily Post and Young China Daily News newspapers - both organs of the Kuomintang, Taiwan's then-ruling Nationalist Party. While on a trip back to Taiwan, he married Florence Fang in 1960.
Capitalizing on the fact that Chinatowns were becoming tourist attractions, John Fang began publishing "Chinatown Handy Guide" booklets in major cities.
In 1979, he started the family's newspaper dynasty by founding AsianWeek, an English-language tabloid aimed at Asian American communities.
Acquiring San Francisco's Examiner, the once notoriously anti-Chinese Hearst-owned newspaper via its support of the Chinese exclusion act and the Japanese internment camp during World War II, is a major step in a history of success for the Fang Family. It made Florence and her three sons - James, Ted and Douglas) the first Asian Americans to own a major daily newspaper in the United States.
Despite facing an uphill battle for credibility, with it's new short and magazine-style features that started on May 16, 2002 and began with placement of Florence Fang as the publisher. The Fang Ex, or "Fangxaminer" as it became known, improved by leaps and bounds.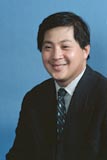 For some, it symbolizes Asian Americans coming of age, a cause for celebration. Others point to the Fang's history of highly partisan journalism. What made this crowning achievement sweeter was the purchase price of $100 while receiving a $66 million, three-year subsidy from the Hearst Corp. to run it.
Many (such as Julie Lee - founder of San Francisco Neighbors' Association and Housing Authority commissioner) have praised the Fangs as driven immigrants who have achieved the American Dream, Others (such as Henry Der, former executive director of Chinese for Affirmative Action who is now state deputy superintendent for education) have described them as business people who've made inroads into the political landscape.
The Fang's other enterprises include the following:
San Francisco's Examiner
AsianWeek
Ted Fang helped form 'Yo!' a syndicated column written for and by youth.
John Fang help start a Spanish-language newspaper.
West of Twin Peaks weekly
Grant Printing House, which publishes the Fang publications.
Independent Group of Newspapers
San Francisco Independent.
Florence Fang formerly owned the opulent Grand Palace Restaurant
Ted Fang is the publisher of the Independent. Elder brother, James - who is married to the daughter of the former mayor of Shanghai - is the 39-year-old publisher of AsianWeek. Douglas Fang handles the papers' online operations.
The family's fortunes soared after the Fangs campaigned to elect Frank Jordan as mayor in 1991. James Fang was appointed as director of international trade.
The Fang's have used the Independent to advocate for politicians the Fangs support and issues that they feel strongly about.
AsianWeek has brought the Fangs more influence. In 1984, a special edition of the tabloid was distributed to delegates at both the Democratic and Republican national conventions, bringing them national notice.
The Fangs have managed to stand out since 1979, when patriarch John Fang first created AsianWeek, the country's only national English- language newspaper focused on Asian issues. The paper is distributed for free in the Bay area and has a national circulation of 50,000.
In addition to The Examiner and AsianWeek, the Fangs' media empire includes the Independent Group of Newspapers, the cornerstone of which is the San Francisco Independent. Together, the seven papers make up the largest non-daily newspaper group in California, with a circulation of 379,000.
John Fang's "longtime friends" include Mayor Willie Brown; District Attorney Terence Hallinan; former state Sen. Quentin Kopp, now a San Mateo County Superior Court judge; political consultant Jack Davis; Sen. Dianne Feinstein, D-Calif.; Joe O'Donoghue, powerful head of The City's Residential Builders Association, and others.
The Fang Family's support is most staunch among the "old guard" faction of wealthy Chinese. In addition, the Fangs have become important fund-raisers for the Republican Party.
He has served on the Bay Area Rapid Transportation Board of Directors since 1990. In addition, he was a member of the Extended Opportunity Program Foundation of City College and the Soo Yuen Association Scholarship Committee. He also has worked with the Chinatown YMCA.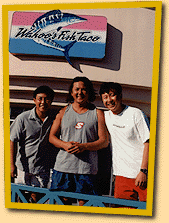 Listed below is an interview with Ed Lee of Wahoo's Fish Taco
How did you get involved with surfing and other extreme sports?
While I was growing up in Newport Beach, all of my friends happened to be surfers.
What elements of your Brazilian background has been the most influential and/or incorporated within your personal/business lifestyle?
The layback style of hanging out and having fun, which helped us fit in better in Orange County (Southern California) area.
What was the most fun and challenging part of mixing your Brazilian and Chinese background together?
The layback (Brazilian) and the need to succeed (Chinese) gave us an almost balanced way of life. We work hard to play a little! (Side Note: I went surfing this morning!?!?!)
How do you balance the Buddhist teachings of your parents with your Christian lifestyle within your personal or business environment?
We have open discussions and mutual respect for each other's religion. Whether you are a Christian or Buddhist, in business we all try our best to do the right thing.
Have any of you and/or your brothers gone back to school to get a degree (i.e. law, business, accounting, management, etc.)?
Mingo tried law school, but it was too hard to accomplish with family and work responsibilities.
What is a Wahoo?
It is the name of a pacific fish, also know as Ono.
What are Wahoo's expansion plans?
We are trying to open 5-6 stores per year.
Why and how are you involved with the California Restaurant Association?
I am currently the president of the Orange County (Southern California) Chapter. I am also involved so I can stay informed about what is happening in our industry.
How have Wahoo targeted the Asian/Asian Pacific American marketplace in the past, present and future (learning Chinese)
We have not target any specific group by race, our target market is "Avery" body.
How do they want to be known in the American and Asian American communities?
At this time, we are not sure
What are the future goals/vision/dreams of Wahoo?
For business, it is to stay close to our target date of opening up the new store. We also want to continue to stay involved in the community (especially with kids). As for our vision, it is to never be corporate and remain a family show.
What are your current challenges?
It is the opening our store in the Santa Monica area.
What misconceptions of Wahoo, whether intentional or unintentional, would you like to clarify?
We might surf and goof off, but between the hours of 9:00 A.M. and 5 P.M. - we are all business.
What was their biggest business challenge?
It is working out our differences as brothers.
What are Wahoo's latest locations?
Our latest locations are in the Mid-Wilshire and Pasadena areas.
What is your favorite business attire and why?
Our favorite attire is a short and a T-shirt. It feels great and because we can - besides it makes people jealous?!?!
OUR GOALS
The purpose of this section is the following:
OPPORTUNITY
to discover more about our dreams
UNDERSTANDING
our fears and our hopes and
UNCOVERING
invaluable and missing information
ADDITIONAL INFORMATION
To obtain additional specific information on the subjects listed below, please CLICK on the "Titles" listed below.

APA & MEDIA NEWS
R.I.P. - CHANG-LIN TIEN
Chang-Lin Tien, who became the first Asian American to head a major U.S. university in his seven years as chancellor of the University of California, Berkeley, died at the age of 67. Tien, who had a debilitating stroke after surgery for a brain tumor in fall 2000, was an internationally known expert on heat transfer and thermal science - - he helped developed the insulating tiles for the space shuttle -- Tien was also famous for his support of social causes, speaking out in favor of affirmative action before and after University of California's governing board of regents dropped race-based admissions in 1995.
R.I.P. - HARRY KITANO
Harry H.L. Kitano, a UCLA social scientist and leading authority on race and ethnic relations, particularly Asian Americans' experiences, died in October 2002 at the age of 76.
During Kitano's more than four decades at the university, he served as co-director of UCLA's Alcohol Research Center and twice as acting director of the Asian American Studies Center, the nation's largest facility for such research. In 1990, he became the first recipient of the endowed chair in Japanese American studies at UCLA, the only academic chair of its kind in the United States.
He was a pioneer in community research studies of interracial marriages, juvenile delinquency, mental health and alcohol abuse among the rapidly growing, diverse Asian Pacific American population.
R.I.P. - BEULAH QUO
Beulah Quo, a film and TV character actress who co-founded one of the first Asian American theater groups in Los Angeles in the 1960s, died of heart failure. She was 79.
R.I.P. - MEHLI MEHTA
Mehli Mehta, the father of conductor Zubin Mehta and mentor to generations of music students through the American Youth Symphony, died at the age of 94.
Born in India, Mehta was a lifelong devotee of Western classical music. He discovered it as a child, and focused on it during a career of more than 60 years as a violinist, conductor and teacher with the American Youth Symphony, which he remade in 1964 and led until his retirement in 1998.
R.I.P. - TOORU KANAZAWA
Tooru Joe Kanazawa, a pioneering journalist and novelist who was one of the oldest members of World War II's legendary Japanese American fighting unit, the 442nd Regimental Combat Team, died Oct. 2 at his home in Topanga. He was 95.
R.I.P.: WU-CHI LIU
Wu-chi Liu, 95, a leading scholar of Chinese literature whose work helped American readers understand the writings of his homeland (Shanghai China), died.
Liu published more than 25 books, including the anthology "Sunflower Splendor: Three Thousand Years of Chinese Poetry." On its release in 1975, a New York Times reviewer termed it the "largest and, on the whole, best anthology of translated Chinese poems to have appeared in a Western language." The anthology is often used as a text in schools.