His interest in thoroghbreds was by mistake. It started by an aborted outing to see Nolan Ryan pitch that ended up viewing Quarter Horse Races at the Los Alamitos Race Track. Upon witnessing the excitement of horse racing, he was captivated.
It wasn't until 1990 that he was reunited with his two brothers and parents (mother - Vau Nguyen ) who were left behind in Vietnam. Only his aunt and uncle and a 12-year-old brother went with him. Their father (Khai Tran), a South Vietnamese Navy man, was in his seventh year of what would be a 10-year incarceration in a POW camp.
Along with his trainer, Richard Baltas, he has purchased Freedom Crest along with five others at Hollywood Park. He co-owns the horses with Joey Tran (10% ownership) - his brother and boss at a company that sells nutritional supplements to Asia.
Linkin Park's "Hybrid Theory" sold 96,377 copies, despite selling more than 6.3 million copies since its release early last year but has never reached No. 1 in February 2002 - though it won a Grammy in the "Hard Rock Performance" for their song Crawling.
In one year, Linkin Park (band named after "Lincoln Park" in Santa Monica) went from an opening act a a local club to having the biggest-selling album of 2001, making the cover of Rolling Stone and nominated for three Grammys.
The band deals with frustration and confusion, layered with such optimism and hope that Rolling Stone refers to the band's sense of "brotherly compassion" within their music that mixes elements of hip-hop with the basic guitar-bass instrumentation of rock.
The band's connection with its audiences is cemented by its regular feature of signing autographs after its concerts.
The success of the movie "Boogie Nights" featured the success of AVN Hall of Fame director Bob Chinn.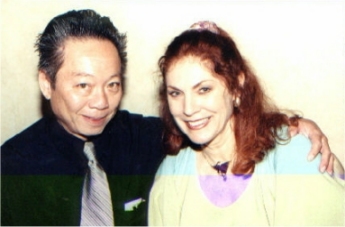 He started as a film school graduate, got a job building sets, and then got a major break during a cameraman's strike when he was promoted to assistant cameraman.
"I worked my way up to cameraman, and the only jobs I could get as a cameraman were on soft-X films, which they were doing at the time. I got quite a few jobs doing that, and I got into directing. I directed soft-X for a while, and then hard-X. Beaver girls, actually. 16mm."
A book-length study of Chinn's work, The Erotic Cinema of Bob Chinn, will be released in 2002.
IN 1869
- Memphis TN conference of plantation owners proposed substituting Chinese labor for black slaves.
IN 1871
- Nineteen Chinese were massacred in Los Angeles. October 24 marked the worst incident of Anti-Chinese violence in America up to that time.
IN 1879
- the Arizona Weekly Star ran an editorial in 1879 portraying Chinese Americans as "an ignorant, filthy, leprous horde" and "the most pernicious and degraded race on the globe." Chinese workers were attacked in railroad camps and mining towns and driven out of Arizona's mines and railroads.
IN 1917
- I.M. Pei, a world-famous Chinese architect is born
IN 1923
- Justice Sutherland, speaking for the Supreme Court in 1923, said that Bhagat Singh Thind and other Asian Indians were aliens ineligible to citizenship because they were not white, as only whites and blacks could become citizens.
IN 1924
- In the Hanapepe Massacre, police attack union headquarters in Hanapepe, HI where 16 sugar plantation workers and 4 policemen are killed.
IN 1930
- Anti-Filipino riot occurred in Watsonville, California and in Kent Washington. The Japanese American Citizens League's first national convention was held in Seattle on August 29.
IN 1947
- Truman grants full pardon to the Japanese Americans who had been convicted for resisting the draft while they and their families were held in concentration camps.
IN 1949
- FBI arrests the Hawaii Seven for communist activity. Their fines and jail terms are overturned in January 1958.
IN 1959
- Confession Program pardons undocumented Chinese immigrant
IN 1959
- First Chinese American to be elected to the United States Senate.
IN 1971
- Japanese American Citizens League wins its fight to repeal the Emergency Detention Act of 1950, thereby eliminating the threat of ever reactivating concentration camps in America.
IN 1999
- Dr. Wen Ho Lee was unfairly accused, imprisoned, interrogated and under surveillance by the FBI for unfounded charges. Discover the vast amount of inaccurate information utilized to convict Dr. Lee of a crime where all charges, except one, was dropped by the U.S. government.
IN 2001
- UC Irvine (58%), UC Berkeley (42%), UCLA (40%), UC San Diego (36%) and MIT (28%) are the top five universities with the greatest percentage of Asian Pacific American students
IN 2002
- Samuel Mok became the first American of Asian descent to serve as chief financial officer of a Cabinet department.
IN 2002
- Click2Asia and aMagazine both ceased operations. Click2Asia was created in late 1999 out of the merger of two Asian-themed dot-coms founded in the mid-1990s with $10 million round of venture capital money and costly ad campaign featuring billboards of pop singer CoCo Lee in cities with high numbers of Asian Pacific Americans. aMagazine was founded in 1989 and purchased by Click2Asia in 2001 while becoming a respected source of information on the APA communities.