WHAT'S NEW

2002
January 2002
February 2002
March 2002
April 2002
May 2002
June 2002
July 2002
August 2002
September 2002
October 2002
November 2002
December 2002

2001
April 2001
May 2001
June 2001
July 2001
August 2001
September 2001
October 2001
November 2001
December 2001
2000
April 2000
May 2000
June 2000
July 2000
August 2000
September 2000
October 2000
November 2000
December 2000
SPECIAL FEATURES
Tia Carrere
Margaret Cho
Church of Rhythm
Hiroshima
James Hong
Bruce Lee
Jet Li
Keye Luke
Martial Law
Minoru Miki
Lea Salonga
George Takei
Tamilyn Tomita
Ming-Na Wen
Anna May Wong
Russell Wong
HOME

SECTIONS
Featured Actors
Featured Actresses
Featured Directors
Featured Musicians
Book Authors
Cartoonists
Fashion Designers
Astronauts
Military Personnel
Newscasters
Politicians
Business People
Community Leaders
Athletics
Television Shows
Film Festivals
FILM REVIEWS
Crouching Tiger
Romeo Must Die
Snow Falling in Cedars
BOOK REVIEWS
Pursuing the Pearl
INTERVIEWS
Angela Lin
Billy Crawford
Hyepin Im
Jacqueline Kong
Jocelyn Enriquez
Kiana Tom
Larissa Lam
ARTICLES
AA Christian Music
AA Hate Crimes & Fetish
Burning of a Chinatown
Demise of Mr. Wong
EWP & Diversity
Improving 501c-3 Orgs.
KA Churches
Lost Empire Review
Politics
Vincent Chin
SPEECHES
George Takei on Diversity
GENERAL ARTICLES
21st Century Racism
AA Stereotype
Amy Tan Interview
APA Discriminatin
AsAm Females
AsAm Male Bashing
Asian American Image
Asian Attitude
Asian Male
Asians on Campus
Asian Stereotypes
Color Blind World
Demographic Figures
Hate Crimes (1998)
Hate Crimes (1999)
Hate Crimes on the Rise
Model Minority
Minority Report (TV)
Nightline on AsAm's
Nightline on Immigrants
Origin of Stereotypes
President's Initiatives
Racism
Racism - Angela Oh
Racism - Angelo Ragaza
Racism - Gary Locke
Racism - John Kim
Racism (Military)
Racism - Norman Mineta
Racism - Phil Tajitsu Nash
Racism - Steward Ikeda
Racism (Views)
Stereotypes
Then and Now
What Kind of Asian?
White House Prejudice
Yellow Face
W h a t ' s N e w
LATEST NEWS FOR JUNE 2002
Our invitation is extended to discover various Asian American leaders listed below, information on our past victories and the many great things that are presently happening in our communities.
YOUR MUSICAL INPUT IS NEEDED as we seek identify the best songs from our music artists.
Click HERE to have your opinion heard.
FEATURED ARTISTS & LEADERS

Jeannie Park, Executive Editor of People Magazine since April 2002, has interviewed people such as Jackie Kennedy and Elizabeth Taylor. Previously she was the executive editor of "In Style" since 1999. Ms. Park is the most prominent Korean American in the U.S. entertainment media.
In 2001, Ms. Park was one of 10 invited by First Lady Laura Bush to a luncheon at the White House for leading female reporters.
She graduated from Harvard magna cum laude with a degree in biochemistry in 1983 before following a career based on her love of magazines in the journalistic field. Her career started after college at the English-language daily, the Korea Herald, in Seoul Korea. Through a minority job fair, she was hired as a researcher for Time Magazine.
In 1989, she moved to People Magazine as a writer and editor while developing the magazine's new Australian edition. In 1992, she joined Entertainment Weekly as senior editor of the magazine's television coverage and was promoted to assistant managing editor in 1995.
In 2001, Park helped establish Time Inc.'s Asian American employee affinity group, now known as A3, which is not limited to the editorial department. The organization now boasting a roster of about 350 members. Connie Chung, a recent addition to AOLTimeWarner's CNN, recently spoke at an A3 conference.
Jeannie is the older of two daughters of Dr. and Mrs. Yoon-Soo Park. Dr. Park is a program director at the Office of Naval Research in Washington, DC and currently serves as the President of The Centennial Committee of Korean Immigration to the United States - Greater Washington (CCKI-GW). Dr. Park is one of the founding editors of KASTN.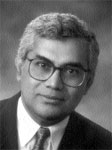 Dr. George Thomas was appointed by the Bush Administration to serve on the National Heart, Lung and Blood Advisory Council of the National Institutes of Health. Dr. Thomas will serve for a term beginning immediately and ending on October 31st, 2005.
The Advisory Council, which is part of the Department of Health and Human Services, advises the HHS Secretary, Assistant Secretary for Health, the Director of the National Institutes of Health, and the Director of the National Heart, Lung, and Blood Institute on the causes, prevention, diagnosis, and treatment of heart, blood vessel and blood diseases.
Dr. Thomas is a past chairman of the American Medical Association's IMG section and a past president of the Association of Physicians of Indian Origin (AAPI), which represents over 35,000 Indian American physicians in the U.S. Dr. Thomas is also the past chief of staff and member of the board of directors at Manatee Memorial Hospital, president of the Manatee Medical Society in Florida and has served as a member of the state board of community colleges of Florida. Dr. Thomas has practiced cardiology at the Bradenton Cardiology Center for over 20 years. Dr. Thomas, a native of India, and his wife Mary and four sons currently reside in Bradenton, FL



Believe it or not, Andy is one of Jackie's fight/stunt doubles. Heard that he was a champion in Taekwondo. He doubled a bit in "Mr. Nice Guy", in the scene where Jackie had to fight Jean-Carlo while his arms and legs were strapped with ropes. But he was also among Jean-Carlo's henchmen when Chan fought them at the construction site. You'll see him in the outtakes, rushing into sight to help Jackie get up after he falls off some wooden pieces.
Andy had a rather larger role in "Rush Hour" in which he played Juntao's men inside Foo Chow Restaurant. He gives poor Carter (Chris Tucker) a hard kick in the guts.
Though he was credited as Stuntman in "Mr. Nice Guy", he is more of a fight choreographer, as you can see in the making of "Who am I?" which is included in "Jackie Chan : My Stunts". He was also one of the Assistant Fight Choreographers in Shanghai Noon.
Andy has also worked with Jackie for a PlayStation video game "Jackie Chan's Stuntmaster." His stunts can be seen in the recent film "The Scorpion King" and US Seals 2.
Born in Hong Kong, Andy first worked for Chan as a stunt double and fight choreographer in ``Mr. Nice Guy'' (1997) and since then has worked on Chan's ``Who Am I?'' (1998), ``Rush Hour'' (1998) and ``Shanghai Noon'' (2000).
Mars, Johnny Cheung, Rocky Lai, Nicky Li, Chan Man-Ching, Wong Ming-Sing, Ken Lo, William Tuan, Chan Tat-Kwong, Lai Sing-Kwong, Hon Chun, Chris Chan, Lai Sing-Kwong, Louis Keung and Hon Chun are current members of Jackie Chan's team.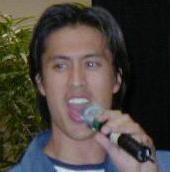 A native of Pleasanton, California, Bryan Chan has been singing his entire life. While waiting for his big break, Bryan graduated with honors from the University of California at Santa Barbara where he received a marketing degree and recorded three gospel CDs with the schools gospel choir. Bryan met his fellow bandmates, Ikaika and Mike, when he took part in a nationwide talent search to be one of eight cast members on the ABC television series Making The Band, which documented the creation of a pop group. The Santa Barbara resident left his job as an event coordinator, and hasn't looked back since. Bryan is 1/4 Chinese, 1/4 Irish and 1/2 Filipino. In his free time, he enjoys being outdoors, rafting, camping and fishing.
The group was signed by Atlantic Records this past spring and is presently working on their first CD that will drop in June 2002. LMNT recently released their first single, "Juliet" - so call your local radio station and get in your element!
Mother (Anita) is Filipino and owns a real estate business in San Ramon. His father (Robert) is Irish/Chinese and a Contractor. His brother (Bill) is a law student at UC Berkeley. His cousin (Melissa) is the head of Bryan's Unofficial Fan club.
The story of his climb to fame: He was working at the opening of the new J. Paul Getty Museum when he recalled reading the ad for "Making the Band." It said: "Do you want to be famous?" and then he took off to Universal Studios. There, he impressed the judges with "Silent Night" and NSYNC's "Tearing Up My Heart."
He got chosen to be part of the 25, and then after performance of All-4-One's "I Swear," who could not hesitate to choose him to be part of the final 8.
He didn't make it, but an investor believed in him and the other guys (Ikaika, Matt and Mike) to form LMNT.
OUR GOALS
The purpose of this section is the following:
OPPORTUNITY
to discover more about our dreams
UNDERSTANDING
our fears and our hopes and
UNCOVERING
invaluable and missing information
APA & MEDIA NEWS
FLOWER DRUM SONG ON BROADWAY

Lea Salonga headlines the New York cast of updated David Henry Hwang's version of Flower Drum Song when it opens on Broadway's Virginia Theater in the fall of 2002.
PARAMOUNT ACQUIRES SOUTH KOREAN FILM

Paramount has acquired rights for all English-speaking territories to Lee Jung-Hyang's "The Way Home." It is believed to be the first time the studio has acquired a Korean film, according to Korean sales companies. The deal also represents the first sale to a major U.S. studio by Korean entertainment powerhouse CJ Entertainment, one of the country's top three producers and distributors (and the market's largest mainstream exhibitor).
"The Way Home," about a small child moved from the city to live in the country with his mute grandmother, has been a huge hit in Korea with 3.5 million ticket admissions and was No. 1 at the box office.
DECREASE OF AA NEWS PEOPLE

The American Society of Newspaper Editors today released its annual Newsroom Employment Survey showing a second consecutive year of decline in the number of Asian Americans working at daily newspapers.
According to the survey, the number of Asian Americans in the newsroom decreased from 1,299 in 2001 to 1,283 this year. In 2,000, there were 1,321 Asian Americans working in newsrooms.
The overall number of minorities in the business increased slightly during the last year, from 6,563 in 2001 to 6,567 in 2002.
The ASNE newsroom diversity survey has been recognized as the benchmark for the industry, and it is a survey AAJA uses to gauge how the industry is doing in terms of diversity.
The number of minorities in newsrooms were slowing climbing until 2001, when the ASNE report showed a decline for the first time in 23 years.
"FRIENDS" IN CHINA

Media giant News Corp is hoping a Chinese-made version of the hit U.S. sitcom ``Friends'' will win fans when it launches a long-coveted local-language channel in China in May 2002.
The program, titled "Joyful Youth,'' will be among a host of other locally produced talk shows, dramas and game shows that News Corp's Hong Kong-based unit Star Group (headed by Jamie Davis) will offer one million cable TV viewers in the southern China province of Guangdong on its new channel called Xingkong Weishi or Star Satellite.
In 2001, China gave its first time permission for cable distribution in Guangdong to three foreign media companies -- Xingkong, Hong Kong-based Phoenix Satellite TV (with 40 million viewers), which is also 38 percent owned by News Corp., and AOL Time Warner's China Entertainment TV (CETV).
Xingkong have costly plans to produce more than 700 hours of original content in the channel's first year.
Grace Wong, spokesman for AOL's CETV/Turner International, will have lineup of ''mostly acquired and repackaged shows'' from Hong Kong, Taiwan, China, Japan and Korea. They will have 250 additional hours of original programming upon finalizing their strategic alliance with a local Chinese partner.
CHRYSLER TARGETS APA BUYERS

Chrysler unveiled the second phase of an advertising campaign specifically targeting and pitching its vehicles to the Asian-American community in California.
Print and television advertisements for the 2002 Dodge Caravan was shown in the San Francisco Bay area and in a Chinese-language campaign for the Jeep Liberty in the Los Angeles area.
This pilot ad campaign for the Dodge Caravan and Jeep Liberty provided a better understanding of Asian-American consumers and positions Chrysler to gain share in this important market."
The Imada Wong Communications Group of Los Angeles developed the Caravan campaign.
ASIAN AMERICAN FEDERATION RECEIVED $320,000

911 Healing Hands, Inc., a non-profit corporation organized by Cathay Bank, today granted $320,000 to the Asian American Federation of New York in support of September 11th relief efforts in New York City.
911 Healing Hands, Inc. was established in September of 2001 with a $250,000 donation by Cathay Bank in response to the horrific national tragedy of September 11, 2001. With the assistance of the Organization of Chinese Americans, the fund had raised close to $400,000 by the end of 2001 to be used towards relief efforts in the aftermath of September 11th.
The remaining 15% of the funds will be devoted to public education promoting understanding and harmony amongst various communities, and building a monument as a memorial to the Chinese American victims of September 11th," said Dunson Cheng, Chairman of the Board and President of Cathay Bank.
The grant from the 911 Healing Hands will also support Federation efforts to coordinate and develop services for displaced workers, residents, and emotionally affected individuals and families. Additionally, the Federation will assist a number of surviving families, which remain a critical focus, and economically impacted individuals who may have fallen through the cracks, through the Federation WTC Fund. Source: Asian American Federation of New York
JACKIE'S "THE TUXEDO" OUT ON AUGUST 16, 2002

DreamWorks Pictures' action comedy "The Tuxedo," starring Jackie Chan, will open nationwide on August 16, 2002.
Starring opposite Chan is Jennifer Love Hewitt ("Heartbreakers"). The film also stars Jason Isaacs ("The Patriot"), Ritchie Coster ("The Thomas Crown Affair"), Debi Mazar ("The Insider"), Mia Cottet, and Peter Stormare ("Chocolat").
The action comedy marks the feature film directorial debut of Kevin Donovan, who made his name as an award-winning commercial director. John H. Williams ("Shrek") and Adam Schroeder ("The Truman Show") are producing "The Tuxedo," with Walter F. Parkes ("Gladiator"), Laurie MacDonald ("Gladiator") and William S. Beasley ("The Mexican") serving as executive producers. The screenplay is by Michael J. Wilson and Michael Leeson from a story by Phil Hay & Matt Manfredi and Michael J. Wilson.
AI GIA ("LOVE YOUR FAMILY" IN CHINESE

Ai Jia's, Love Your Family in Chinese, "Care Ministry" is part of the "Focus on the Chinese Family" organization based in Diamond Bar, CA that addresses various family problems from the immigrant to the first generation families.
They deal with cultural problems that often strain marriages and sometimes lead to abuse.
The counseling families receive is provided by Chinese mental health professionals and is all from a Christian perspective. Couples learn parenting skills and anger management.
Another strain on the families is that young Chinese in this country have become Americanized and have adopted a way of life often contrary to their parents'. These children often feel intense pressure from their parents to be perfect, an outgrowth of Chinese culture.
Chinese families emphasize IQ but not 'EQ' - emotional intelligence.
They deal with Chinese children who are taught that a family problem should not be shared with outsiders. Trust and a relationship must first be developed before assistance is accepted.
The problem is more acute with "parachute kids," so named because they've been dropped in the States while their father remains in Taiwan to earn money, and their mother travels back and forth between the two. As a result, families don't communicate, kids are ostracized at school and parents are more concerned about the "American Dream."
Suicide is another major problem because it is acceptable because of the reincarnation concept taught in Buddhism."
Some Chinese families, though Buddhist, still send their children to Christian schools for cultural
Gangs are another problem because it gives them a sense of belonging," Deanna Go (assistant to the President) said. One of Focus on the Chinese Family's primary outreaches to these children is its annual sports camp.