LATEST NEWS FOR AUGUST 2002
Our invitation is extended to discover various Asian American leaders listed below, information on our past victories and the many great things that are presently happening in our communities.
Read about the following in our August edition:
For an upcoming article, we are seeking your views on your choices from the Asian/Asian Pacific American communities of the most successful, prominent and high-profiled example of the following
Actor/Actress
Film Producer/Director
Landmark Film
Musicians/Artist
Community Leader
Politicians
Athlete
Pioneer (Actor/Actress)
Click HERE to share your choices and the reasons behind your respective choices.
YOUR MUSICAL INPUT IS NEEDED as we seek identify the best songs from our music artists.
Click HERE to have your opinion heard on the following music groups:
Regine Velasquez (pop)
Second Wind (r&b)
Francis Kim (folk rock)
Gorillaz (hip-hop)
String Cheese Incident (jam band)
Junoon (rock)
A Mei (Asian Pop)
Moulann (Pop)
Rachael Lampa (CCM)
RiverMaya (OPM)
SuperChick (CCM)
Vanessa Mae (International Pop)
Aiko Star (Pinoy Rock)
N.E.R.D. (Hip-Hop)
Jenny Choi (Folk/Pop)
Click HERE on your views if people would come to a Hollywood night club showcasing prominent Asian Pacific American music artists.
FEATURED ARTISTS & LEADERS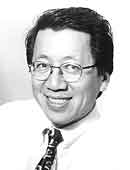 Ben Fong-Torres is a widely acclaimed and successful rock journalist, whose career started at The Rolling Stone in 1968.
Before his stint at the Rolling Stone, he had worked for Pacific Telephone's employee magazine, East West (a bilingual Bay Area Chinatown newspaper.
After the Rolling Stone in 1981, he has written for numerous publications such as Esquire, GQ, Parade, Playboy, Gavin, Sports Illustrated, Travel & Leisure, American Film, TV Guide, Harper's Bazaar, San Francisco Chronicle and California Business.
His Rolling Stone interview subjects included Bob Dylan, the Rolling Stones, Ray Charles, Paul McCartney, Elton John, Stevie Wonder, Bonnie Raitt, the Jackson 5, Linda Ronstadt, Neil Diamond, Diana Ross, Marvin Gaye, Paul Simon, the Grateful Dead, Ike & Tina Turner, Diane Keaton, and Steve Martin.
He wrote the main biographies and anthologies for various publications. They include People Magazine's tributes (Jerry Garcia & Frank Sinatra), Rolling Stones' anthologies (The Motown Album: The Sound of Young America, Hickory Wind: The Life and Times of Gram Parsons, The American's Search for Identity, Chink!: Studies in Ethnic Prejudice and two college textbooks.
Some of the books he wrote include Not Fade Away: A Backstage Pass to 20 Years of Rock & Roll, The Rice Room: From Number Two Son to Rock and Roll, The Hits Just Keep On Coming: The History of Top 40 Radio
His radio stints include KQED-FM's host on their weekly arts program, weekend DJ on KSAN from 1970 to 1979 and writing/narrating a syndicated radio special, San Francisco: What a Long, Strange Trip It's Been, which won a Billboard Award for Broadcast Excellence.
Fong-Torres was portrayed as himself in Cameron Crowe's movie "Almost Famous." Terry Chen was the actor that portrayed him in the movie.
Ben Fong-Torres found that being one of the very few Asians in his field to be an advantage. Most artists welcomed that they were facing a Chinese guy or an Asian American. His reputation often made the situation a moot issue.
His strict Chinese upbringing was really more the feeling of responsibility to be a part of the family business, such as his family's restaurant business. His parents didn't expressed a great disappointment because of his interest in journalism was very evident. He stated that "our parents instilled in us a work ethic, a sense of responsibility and loyalty to the family, and to our culture."
In 1999, Ben joined myplay.com, a music site on the Internet, as Editorial Director. He also began contributing articles to AsianConnections.com and is vice president of content at Collabrys Inc, a company that specializes in brand marketing.
Ben Fong-Torres was born in Alameda, California, in 1945, and raised in Oakland's Chinatown, where his parents owned a restaurant. Fong Kwok Shen (father) came to the US in 1921 and Soo Hoo Tui Wing (aka Connie) arrived in 1940. Barry, his brother, died at a young age. Ben attended San Francisco State College from 1962 through 1966, majored in Radio-TV-Film and served as a reporter and editor of the campus daily. "And, as Dianne, my wife, will ruefully agree, I ain't no businessperson, either."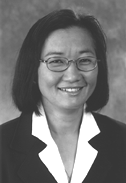 Yeh Ling-Ling is the Executive Director of Diversity Alliance for a Sustainable American (DASA).
Ms. Yeh believes that a highly overpopulated and divided America will hurt all legal residents, U.S. and foreign born. She holds a strong belief that sprawl, gridlock, overburdened infrastructure and rising ethnic tensions cannot be solved without also addressing rapid population growth, driven mainly by record levels of immigration. Her conclusions were as the result of 10 years of working for immigration law firms helping people immigrate to the United States and a subject of debate among other immigration experts.
About 100 of her articles and opinion pieces have appeared in many US publications such as LA Times, Christian Science Monitor, Asian American Policy Review of Harvard University, Minority Politics, Chicago Tribune, Newark Star Ledger, Philadelphia Inquirer, San Francisco Chronicle, Rocky Mountain News, Seattle Times, Union-Leader, Sun Sentinel, New York Newsday, Honolulu Star-Bulletin, San Diego Union-Tribune and USA Today Magazine.
An opinion piece by Ms. Yeh has been reprinted in a college text book, "California Dreams and Realities: Reading for Critical Thinkers and Writers." Excerpts of her article, "Legal Immigration Must Be Curbed, Too" from USA Today magazine was reprinted in the national Sixth Edition of Prentice Hall Literature, "The American Experience."
Yeh Ling-Ling has appeared on approximately 300 talk shows. Asian Week published a positive cover story about her work in the February 17, 2000, issue. Jonathan Alter of Newsweek wrote a column about her on MSNBC on 8/17/2001 entitled: "Immigration: Worth a Second Look." She has also been on a number of immigration panels, such as those sponsored by Lewis & Clark College in Oregon and World Forum of Silicon Valley.
Ms. Yeh is a naturalized citizen, since 1980 (at the age of 27), and born in Vietnam of affluent Chinese parents. She was educated in Cambodia and Taiwan and graduated from the University of Paris-Sorbonne. Her parents later died in the killing fields of Cambodia, when the Communist Khmer Rouge government of Pol Pot took over in 1975.
Diversity Alliance for a Sustainable American (DASA)'s Mission Statement
Most of us are immigrants or descendants of immigrants, and many immigrants are assets to this country. However, rapid population growth in the U.S., driven in large part by record high levels of immigration, is adversely impacting America's environment, workers, infrastructure, social coherence and the quality of life of residents of all racial backgrounds. Current rates of immigration also hurt minorities and earlier immigrants the most.
Despite our differences in racial, ethnic, religious and political backgrounds, supporters of Diversity Alliance for a Sustainable America are committed to working together to educate residents on the consequences of population growth and the benefits of population stabilization.
DASA supports replacement-level fertility (an average of 2 children per family) and replacement-level immigration (no more than 200,000 immigrants per year, including refugees). This would lead to U.S. population stabilization.
DASA supports a race-blind, country-blind U.S. immigration policy. DASA also supports efforts to stabilize world population and improve living conditions world-wide.
Legal immigration should be limited to spouses and unmarried children under 18 of U.S. citizens and non-citizen legal immigrants, individuals who are personally persecuted as defined by the Immigration Act of 1980, and highly skilled labor certified by the U.S. Department of Labor to be in shortage in the U.S.
Non-citizen legal immigrants should be denied all welfare benefits, cash and non-cash, except emergency medical care.
All illegal aliens should be expeditiously deported, except those who are spouses of U.S. citizens;
All illegal aliens should be denied all public services except emergency medical care;
Children born in the U.S. of illegal immigrants should be denied automatic U.S. citizenship.
Only legal immigrants who have demonstrated working knowledge of English and have met all requirements for naturalization can become U.S. citizens.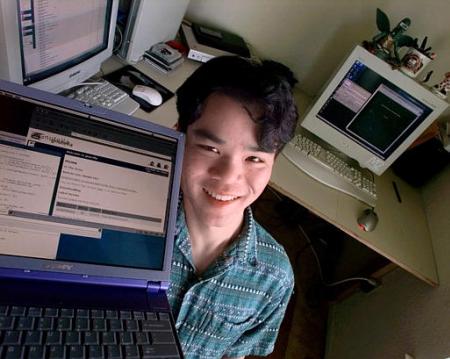 Gene Kan was a peer-to-peer file-sharing programmer extraordinaire before his death on June 29, 2002 at the age of 25.
This Fullerton (a Southern California city) native's professional life revolved around developing new ways to share information easily and quickly.
A soft-spoken person, of Chinese descent, had a talent for coining phrases (as evident by many his interviews with the media) that cut neatly through technical complexities. This ability to translate complicated technology into easily understandable terms quickly led to his becoming the unofficial spokesman for Gnutella in particular, and for file-sharing applications in general.
He testified before the Senate Judiciary Committee last June, advising the recording industry that "the toothpaste is already out of the tube," and it would be best to adjust their businesses to the new reality of file sharing, as opposed to trying to ban it.
Kan helped write an early version of Gnutella designed to work on the Unix operating system. He was among the first programmers to produce an open-source version of the file-sharing application Gnutella, which enables users to search for and transfer files from computer to computer that thousands of people use Gnutella to swap files.
In June 2000, Kan started Burlingame-based InfraSearch Inc., a peer-to-peer search engine technology (based on Gnutella's technology) company that attracted high-profile investors that allowed any connected device on a network -- from cell phones and wireless PDAs to PCs and servers -- to communicate, collaborate and share information. Sun acquired InfraSearch in 2001 for $10 million.
Kan graduated from the University of California at Berkeley in 1997, with degrees in electrical engineering and computer science. He was lso an aficionado of fast cars and street racing.