WHAT'S NEW

2002
January 2002
February 2002
March 2002
April 2002
May 2002
June 2002
July 2002
August 2002
September 2002
October 2002
November 2002
December 2002

2001
April 2001
May 2001
June 2001
July 2001
August 2001
September 2001
October 2001
November 2001
December 2001
2000
April 2000
May 2000
June 2000
July 2000
August 2000
September 2000
October 2000
November 2000
December 2000
SPECIAL FEATURES
Tia Carrere
Margaret Cho
Church of Rhythm
Hiroshima
James Hong
Bruce Lee
Jet Li
Keye Luke
Martial Law
Minoru Miki
Lea Salonga
George Takei
Tamilyn Tomita
Ming-Na Wen
Anna May Wong
Russell Wong
HOME

SECTIONS
Featured Actors
Featured Actresses
Featured Directors
Featured Musicians
Book Authors
Cartoonists
Fashion Designers
Astronauts
Military Personnel
Newscasters
Politicians
Business People
Community Leaders
Athletics
Television Shows
Film Festivals
FILM REVIEWS
Crouching Tiger
Romeo Must Die
Snow Falling in Cedars
BOOK REVIEWS
Pursuing the Pearl
INTERVIEWS
Angela Lin
Billy Crawford
Hyepin Im
Jacqueline Kong
Jocelyn Enriquez
Kiana Tom
Larissa Lam
ARTICLES
AA Christian Music
AA Hate Crimes & Fetish
Burning of a Chinatown
Demise of Mr. Wong
EWP & Diversity
Improving 501c-3 Orgs.
KA Churches
Lost Empire Review
Politics
Vincent Chin
SPEECHES
George Takei on Diversity
GENERAL ARTICLES
21st Century Racism
AA Stereotype
Amy Tan Interview
APA Discriminatin
AsAm Females
AsAm Male Bashing
Asian American Image
Asian Attitude
Asian Male
Asians on Campus
Asian Stereotypes
Color Blind World
Demographic Figures
Hate Crimes (1998)
Hate Crimes (1999)
Hate Crimes on the Rise
Model Minority
Minority Report (TV)
Nightline on AsAm's
Nightline on Immigrants
Origin of Stereotypes
President's Initiatives
Racism
Racism - Angela Oh
Racism - Angelo Ragaza
Racism - Gary Locke
Racism - John Kim
Racism (Military)
Racism - Norman Mineta
Racism - Phil Tajitsu Nash
Racism - Steward Ikeda
Racism (Views)
Stereotypes
Then and Now
What Kind of Asian?
White House Prejudice
Yellow Face
W h a t ' s N e w
LATEST NEWS FOR JAN 2002
As we enter 2002, join us as we are eagerly anticipate the many great things will happen to the Asian Pacific American communities.
Our invitation is extended to discover various Asian American leaders listed below, information on our past victories and the many great things that are presently happening in our communities.
YOUR MUSICAL INPUT IS NEEDED as we seek identify the best songs from our music artists.
Click HERE to have your opinion heard.
FEATURED ARTISTS & LEADERS
KIM NG

She is the Executive Vice President and General Manager of the Los Angeles Dodgers, one of only three women to hold such a position, joining Elaine Weddington Steward of the Boston Red Sox and Jean Afterman of the New York Yankees.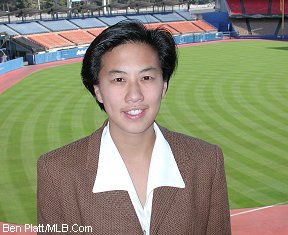 Her primary responsibility is to assist in every area of the baseball operations of the Dodgers.
Her experiences include working with Dan Evans at the Chicago White Sox, handling arbitration and contraction negotiations, and with the New York Yankees.
Kim Ng is the first Asian woman to hold such a position in Major League Baseball and, at 29, the youngest assistant GM in the Majors while with the New York Yankees.
NIKKI S. LEE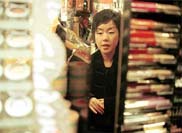 She is a New York artist born in South Korea and whose Korean name is Seug Hee, has investigated cultural and ethnic identity through appearance through her photo work. Her work is in the permanent collections of the Metropolitan Museum of Art and the Guggenheim Museum.
Ms. Lee creates a new identity that in each project introduces her to a new culture, like that of indigent white Midwesterners, suburban skateboarders and urban swing kids.
Her social documentary photography portfolio include the Hip-Hop Project, Yuppie Project, Senior's Project Hispanic Project and others. She gains access and acceptance the way anyone gets in anywhere: with hair, makeup and clothing.
She was raised in Geo- Chang South Korea, the daughter of a homemaker and a business man who operates wedding-banquet halls. She moved to New York in 1994 to study commercial photography at the Fashion Institute of Technology.
"My work is very much about identity," she stated. It was important, in all her work, to be photographed in a group, by a member of the group that she adopted and who adopted her for a project. "In Western culture, identity is always `me,' she said. "In Eastern culture, the identity is `we.' Identity is awareness of others."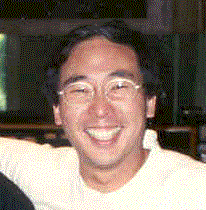 NATHAN WANG

When he was nine, he was studied musical theory and composition at USC. He graduated from Pomona College.
He received a Fullbright Fellowship to study at Oxford University in England for two years.
He has worked with Steven Spielberg twice. The first was a composition for a television documentary The Lost Children of Berlin which earned Nathan a Cable Ace award for Best Documentary.
TV work includes Fox's animated series Eekstravanza, Warner Brother's China Beach, Fox's Likely Suspects, Dreamwork's Toonsylvania and Disney's Pith Possum.
CD Interactive Game experience include The Mupppets Treasure Island and The Return to Zork.
Movie credits include Natural Causes and Jackie Chan's Asian version of Rumble in the Bronx, First Strike and Who Am I?
Current projects include Nickelodeon's Fat Dog Mendoza" and has been commissioned to write an opera for the Los Angeles Opera Company.
SOJIN
Sojin, whose real name is Sojin Kamiyama, was born January 30, 1891 and died on July 28, 1954.
He started as a stage magician and worked in many U.S. films. He was generally cast as an exotic villain and had a screen presence that was sinister, yet charismatic.
His films include The Thief of Bagdad (United Artist, 1924), Proud Flesh (MGM, 1925) directed by King Vidor, The Sea Beast (Warner Bros., 1926) with John Barrymore, Road to Mandalay (MGM, 1926) with Lon Chaney, King of Kings (DeMille Pictures, 1927) directed by Cecil B. DeMille, Devil Dancer (Samuel Goldwyn Inc. 1927) directed by Fred Niblo, Old San Francisco (Warner Bros., 1927), with Warner Oland/Anna May Wong and many others.
Sojin's ability to steal scenes was legendary and not missed by one reviewer from the N.Y. Times, who described vividly and acurately the Sojin touch in his role in The Thief Of Bagdad, "Sojin is remarkable for his undemonstrative countenance, cruel and comfortable, with just a scintillation of a smile when dirty work is to be done." The Sojin smile was delivered with the Sojin style!
During his tenure in America, Sojin suffered from the same stereotyping and prejudice that plagued other great Asian stars in Hollywood, like Anna May Wong and Sessue Hayakawa.
DEBORAH CHUNG
Deborah Chung invented (along with Zeng-Qiang Shi) and patented "smart concrete."
By mixing a small amount of short carbon fibers with ordinary concrete, the volume electrical resistivity of "smart concrete" can be measured. The resistance of "smart concrete" changes with strains put on it. In effect, "smart concrete" is a sensor that can be measured for stress.
"A highway made with smart concrete would be able to tell where each vehicle was and what its weight and speed were," says Chung. "Vehicles could be weighed while travelling normally on the highway."
Also, "smart concrete" withstands greater forces and controls cracking better than ordinary concrete.
IN 1869
- Memphis TN conference of plantation owners proposed substituting Chinese labor for black slaves.
IN 1871
- Nineteen Chinese were massacred in Los Angeles. October 24 marked the worst incident of Anti-Chinese violence in America up to that time.
IN 1879
- the Arizona Weekly Star ran an editorial in 1879 portraying Chinese Americans as "an ignorant, filthy, leprous horde" and "the most pernicious and degraded race on the globe." Chinese workers were attacked in railroad camps and mining towns and driven out of Arizona's mines and railroads.
IN 1923
- Justice Sutherland, speaking for the Supreme Court in 1923, said that Bhagat Singh Thind and other Asian Indians were aliens ineligible to citizenship because they were not white, as only whites and blacks could become citizens.
IN 1924
- In the Hanapepe Massacre, police attack union headquarters in Hanapepe, HI where 16 sugar plantation workers and 4 policemen are killed.
IN 1930
- Anti-Filipino riot occurred in Watsonville, California and in Kent Washington. The Japanese American Citizens League's first national convention was held in Seattle on August 29.
IN 1930
- Nearly 3000 Filipinos working in Alaskan canneries.
IN 1947
- Truman grants full pardon to the Japanese Americans who had been convicted for resisting the draft while they and their families were held in concentration camps.
IN 1949
- FBI arrests the Hawaii Seven for communist activity. Their fines and jail terms are overturned in January 1958.
IN 1959
- Confession Program pardons undocumented Chinese immigrant
IN 1959
- First Chinese American to be elected to the United States Senate.
IN 1959
- Wing Luke is the son of an immigrant laundryman. When Luke won a seat on the Seattle City Council in 1962, he became the first Asian American elected official in the Pacific Northwest. After his tragic death in a 1965 plane crash, the community fulfilled his dream by establishing a multi-cultural Asian American museum in 1967.
IN 1971
- Japanese American Citizens League wins its fight to repeal the Emergency Detention Act of 1950, thereby eliminating the threat of ever reactivating concentration camps in America.
IN 1971
- Lea Salonga (actress seen/heard in Ms. Saigon, Mulan and Flower Drum Song - Mark Taper Forum production) is born
IN 2001
- Patrick Oliphant's racist cartoon was an offshoot of the recent stand off between the U.S. and China over the U.S. spy plane incident.
OUR GOALS
The purpose of this section is the following:
OPPORTUNITY
to discover more about our dreams
UNDERSTANDING
our fears and our hopes and
UNCOVERING
invaluable and missing information
APA & MEDIA NEWS
AZN POETS ON HBO'S DEF POETRY
Yellow Rage (Catzie Vilayphonh and Michelle Meyers) and Beau Sia can be seen on the below-listed prominent cable show!
From the makers of Russell Simmons' Def Comedy Jam, HBO premieres an all-new four-part series that showcases practitioners of one of the country's fastest-rising performing-art forms -- def poetry -- in an intimate, uncensored format.
Taped live at The Supper Club in New York, the four installments of Russell Simmons Presents Def Poetry will be hosted by popular rap artist Mos Def, and will spotlight original material performed by contemporary urban poets and well-known music/comedy artists, including Jewel, Dave Chappelle, Benjamin Bratt and Cedric the Entertainer.
Airdates are December 14, 21, 28 (2001) and January 4, 2002 at 12 midnight
KOCE FEATURES ASIAN ARTISTS
KOCE's "Sound Affects" program profiles Keiko Matsui and Hawaiian slack-key guitarists George Kahumoku and Daniel Ho (among other eclectic artists) in their inaugural season of 13 episodes. "
"Sound Affects" premieres Saturday (Jan 5, 2002) with two episodes at 11 and 11:30 p.m. on KOCE. It continues Saturdays at 11 p.m. In February, new episodes airing at 11 p.m. will be followed at 11:30 p.m. by reruns of previous shows.
Purpose is to try a non-traditional method of raising money and to meet the goals of the president of PBS, Pat Mitchell, need for new shows that will bring in younger audiences.
Alison Badger's (show's producer and host) idea was to take up-and-coming musicians and introduce them to older audiences (25-49).
"There have been other music shows, like 'Austin City Limits' and 'Sessions at West 54th,' but none of them have come from the West Coast," Badger says. "This being the entertainment capital of the world, we need to have a music show based here."
SAN FRANCISCO'S CHINATOWN TRAGEDY
For decades, San Francisco Chinatown's 145 residential hotels, known as SROs, have represents a most embarrassing secret in an otherwise glittering city where housing costs for a decade have been the nation's least affordable.
With 13,000 residents in line for government-assisted housing, this has become a last resort for immigrant families who have dropped off the city's social-service radar screen--many unaware of their legal right to complain about poor conditions.
San Francisco has ignored the problem because the Chinatown population is largely immigrant, don't speak English, don't vote and don't complain.
San Francisco Chinatown's 16 square blocks--one of America's most densely populated neighborhoods--are home to 60% of the city's 450 SRO families, including 760 children.
Chinatown families tend not to suffer from the alcohol and drug dependency or spousal abuse rampant in other inner-city SROs. They are more often intact multi-generation families with two working adults. Still, they remain in their quarters an average of six years--twice as long as their counterparts elsewhere.
One in three SRO tenants is infected with the tuberculosis germ--an early onset of the disease that does not always lead to an active case--with infection rates "similar to those found in sub-Saharan Africa. Children growing up in SROs routinely suffer from psychological and learning difficulties.
Laura Monoson of Hogan & Vest Inc., the company that oversees one of the SRO hotels states "The Chinese are used to community kitchens and bathrooms, it's part of their culture."
JOIE CHEN IS AXED
CNN pulled four shows and 30+ employees such as Roger Cossack, Bill Tush and Joie Chen.
"NewsSite" - the afternoon show anchored by Chen, a former anchor on WXIA in Atlanta, was launched this summer and was shelved after the Sept. 11 attacks.
The Atlanta-based news operation eliminated the jobs of at least 400 CNN employees in 2001.
RAMSEY FONG
This upcoming movie producer was a an office production assistant in the film Happiness (featuring Larra Flynn Boyle and Jon Lovitz), production secretary in Woody Allen's "Sweet and Lowdown, producer in "Upheaval and associate producer in "The Business of Stangers" that features Stockard Channing.
WEN HO LEE & HELNE ZIA
Wen Ho Lee and Helen Zia are appearing at UCLA to promote the upcoming book about the unfortunate actions taken against Mr. Lee by the United States government. Click HERE for more info and visit the message #378.
APA FIGURES IN THE MEDIA
According to the leading union for actors, the Screen Actor's Guild, Asian-Americans accounted for 2.2 percent of all the roles in the movies and on TV in 2000. That number marked a 0.1 percentage point increase from the previous year.
Yet Asian-Americans make up 3.8 percent of the U.S. population and their numbers are even higher in Los Angeles and New York, where much of the filming for TV and movies is done.
CHAN HO SIGNS WITH RANGERS
Texas Rangers gave a $65 million, five-year contract with Chan Ho Park. This 28-year-old right-hander who went 15-11 with a 3.50 ERA in 2001 joins a team that has added John Rocker, Dave Burba, Todd Van Poppel, Jay Powell and Carl Everett,
Park's contract calls for salaries of $11 million next season, $12 million in 2003, $13 million in 2004, $14 million in 2005 and $15 million in 2006.
Based on the current guaranteed total of the contract, Park has an average salary of $13 million a season, sixth among pitchers behind the Yankees Roger Clemens ($15.45 million), Colorado's Mike Hampton ($15,125,000), the Dodgers' Kevin Brown ($15 million), the Yankees' Mike Mussina ($14.75 million) and Arizona's Randy Johnson ($13.1 million).
TRUE "CHARLIE' NGUYEN'S NEW FILM
Indie filmmaker Truc "Charlie" Nguyen made his just-released feature film on a budget of $200,000.
This was done though extreme cost-cutting measures and getting the entertainment company he works for to invest in the film. Instead of shopping for a distributor, he decided to rent a local theater for theater-goers to see his film.
Written and directed by Nguyen, the movie stars Van Son as Huy, a Vietnamese American who returns to Ho Chi Minh City to marry his debonair fiancee, Lan (Hong Dao), only to run into some major snags just before the wedding. He loses his wallet along with his pants, then he takes the wrong train, where he meets the lovely Phuong ("Tawny" Thanh Truc Nguyen). The two get stranded in a rural village, where Huy does a lot of soul-searching and chances are ... the wedding is off.
Set in the former Saigon and the coastal town of Phan Thiet, the two-hour feature was filmed in Vietnamese and has English subtitles.
Nguyen spent three months with his volunteer cast in Vietnam, waiting to get film permits. Once approved, the shoot took only three weeks because the crew was willing to work 16- to 20-hour days.
NEW APA FILMS
Discover and support newly-released films such as ABCD, American Desi, The Debut and American Adobo. Learn more about these films by clicking HERE.
APA THEATER PERFORMANCES
Check out upcoming APA theater performances such as the "Day of Remembrance" in San Francisco (Message # 372), East West Players' Sister Matsumoto (Message #366), "Exit the Dragon is performing in Vancouver (Message #367) and various events with spoken word artists (Message #382 & #385). Click HERE for more info.
JOY CHEN - DIR. OF ECONOMIC RECOVERY
The U.S.-born daughter of immigrants from China, Chen first exercised her political skills working in a nonpartisan role in Taiwan's first elections in 1987 and recently was a former project manager for Catellus Development Corp..
After the Sept. 11 terrorist attacks, Mayor James K. Hahn appointed Chen, an energetic veteran of the real estate development business, to head a new effort to assist displaced workers, stimulate the economy and revive travel and tourism in Los Angeles and Southern California.
Her job is a six-month appointment - ending on May 2002. She has no big budget to hand out incentives to business--not with tax revenues to the city running $71 million below anticipated levels, thanks to the downturn.
Chen hopes to unlock big money by removing bottlenecks on more than $1 billion worth of city projects for which funding has been approved by voters but which have not been started because of slow government procedures.
Chen will promote Hahn's $100-million housing trust fund to give developers initial capital so they can get financing from banks and qualify for funds from other government agencies.
HELEN YOUNG HAYES
Helen Young Hayes and Lawrence Chang of Janus Worldwide Fund (one of the top global-stock mutual fund managers of the 1990's, burned by stock markets this year, are taking a very cautious approach to 2002.
They state that the giant Janus Worldwide Fund has a sizable cash cushion and perhaps the most defensive posture the fund has ever had, though the $21.4-billion fund has fallen 24% this year, worse than nearly three-quarters of its rivals. But it still is ranked at the top of the world stock fund category for the last 10 years, with an average annual return of 14.2%, according to fund tracker Morningstar Inc.
CHINESE AMERICAN DONATION TO 911
Members of the Chinese American Disaster Relief Coalition of Silicon Valley will present the Uniform Firefighter's Association, Widow and Children's Fund with a donation of $100,000.
Andrew Hsia, Director General of the Taipei Economic and Cultural Office in New York, presented the donation to New York Fire Department Commissioner Thomas Von Essen.
The people and government of Taiwan have also made several donations to September 11-related charity funds including a donation of $1,000,000.
NYC CHINATOWN RECEIVES $1M!
Elaine Chao & George Pataki provided $1M for NYC's Chinatown that suffered economic setbacks as the result of the September 11, 2001 tragedy. Click HERE for more info and visit the message #350.